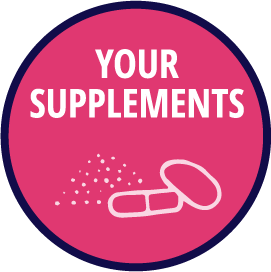 I consider a prenatal vitamin before and during pregnancy, as well as postpartum to be a non-negotiable. There are a million prenatals on the market, but very few have the right amounts and right types of nutrients. These prenatals are the ones I trust and recommend the most. Follow dosage instructions on the label.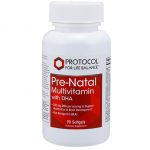 Pre-Natal Multi w/DHA
Protocol for Life Balance
Optimal nutrition is integral to a healthy pregnancy. Nutritional needs for vitamins and minerals increase during this time. Protocol For Life Balance® Prenatal Softgels with DHA offer a balanced blend of vitamins, minerals, and DHA specifically formulated for women during pregnancy and/or lactation.* DHA is an essential fatty acid known to be critical during pregnancy and post-natal for the optimal development of your infants eyes and brain.* Current research indicates an optimal average daily intake of at least 200 mg of DHA.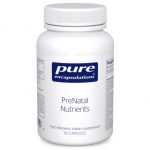 PreNatal Nutrients
Pure Encapsulations
PreNatal Nutrients is formulated support for women of childbearing age, pregnant women and lactating women. PreNatal Nutrients supports hormone, neurotransmitter, DNA, protein and energy production as well as optimal neural and cellular development.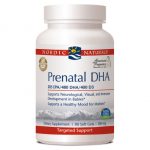 Prenatal DHA
Nordic Naturals
Prenatal DHA is a convenient and effective way to ensure that mothers and their growing babies get enough of this vital nutrient every day. Surpassing all international standards for purity, freshness, and concentration, Nordic Naturals Prenatal DHA provides the benefits of omega-3 fats without the risk of toxicity. Ideal for pregnant and nursing mothers, these unflavored soft gels are half the size of standard soft gels, and are perfect for the sensitive palates of pregnant women. Prenatal DHA provides the foundation for a healthy pregnancy.
Medical Disclaimer
Always speak with your physician or other healthcare professional before taking any medication or nutritional, herbal or homeopathic supplement, or using any treatment for a health problem. If you have or suspect that you have a medical problem, contact your health care provider promptly. Do not disregard professional medical advice or delay in seeking professional advice because of something you have read on this web site. Information provided on this web site and the use of any products or services purchased from our web site by you DOES NOT create a healthcare provider-patient relationship between you and any of the healthcare providers affiliated with our web site.
Information and statements regarding dietary supplements have not been evaluated by the Food and Drug Administration and are not intended to diagnose, treat, cure, or prevent any disease.