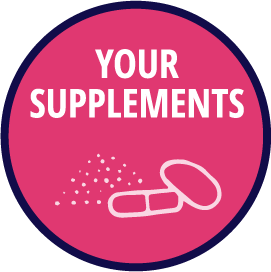 HEAVY OR LONG PERIODS SUPPLEMENT PROTOCOL
I have created this protocol especially for YOU (my community) to help support your menstrual cycle health. This protocol will be helpful for you if:
You have heavy periods (you are changing pads/tampons/period underwear more than every 1-2 hours, you leak through clothing often, or your period wipes you out physically)
You have long periods (8 or more days)
You bleed more than once a month
You experience more than 2 days of spotting in the lead up to your period
I suggest implementing this protocol in conjunction with my Harness Your Hormones Program for 12 weeks to see improvements in your cycle. Please consult with your doctor before taking any supplements.
Here's to fixing your period!
xoxo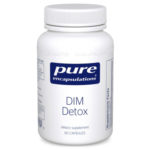 DIM Detox
Pure Encapsulations
DIM and some of the other ingredients in this product like calcium d glucarate work to reduce estrogen levels by targeting liver detoxification phases and lowering beta glucuronidase which slows down the reabsorption of estrogen in the gut.

Curcumin
Pure Encapsulations
Curcumin can lower inflammation and estrogen levels, reducing heavy bleeding. Take away from iron as it can interfere with iron absorption.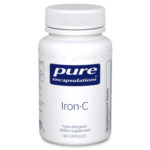 Iron-C
Pure Encapsulations
Iron can help address iron deficiency caused by heavy periods, and it can lighten heavy periods.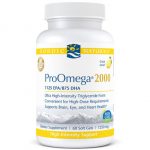 ProOmega® 2000
Nordic Naturals
Omega 3's are potent anti-inflammatory agents and super important for healthy ovulation and overall hormonal health (read progesterone, which will reduce heavy bleeding). They are also beneficial in helping to regulate menstrual cycles, reduce menstrual cramps and improve PMS symptoms. They also help the brain cope better with stress and reduce the negative effects of chronic stress.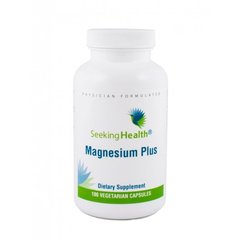 Magnesium Plus
Seeking Health
Magnesium Plus by Seeking Health is a potent formula that combines magnesium glycinate plus magnesium malate, along with the active form of vitamin B6 to support healthy neurological function. Magnesium Plus iMagnesium provides well-absorbed forms of magnesium that are less likely to produce diarrhea compared with other forms of magnesium. Magnesium and B6 combined provides powerful defense against mental and emotional PMS and PMDD symptoms. 
Medical Disclaimer
Always speak with your physician or other healthcare professional before taking any medication or nutritional, herbal or homeopathic supplement, or using any treatment for a health problem. If you have or suspect that you have a medical problem, contact your health care provider promptly. Do not disregard professional medical advice or delay in seeking professional advice because of something you have read on this web site. Information provided on this web site and the use of any products or services purchased from our web site by you DOES NOT create a healthcare provider-patient relationship between you and any of the healthcare providers affiliated with our web site.
Information and statements regarding dietary supplements have not been evaluated by the Food and Drug Administration and are not intended to diagnose, treat, cure, or prevent any disease.