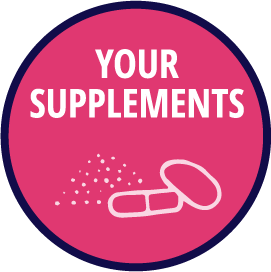 If there was one mineral that I would recommend to women, magnesium would be it. It has such a profound effect on our periods because it plays a part in over 300 enzyme reactions in the body. Unfortunately for us, stress causes our bodies to excrete magnesium at a faster pace than when we're not stressed, so it's imperative for women to supplement. In my experience, food sources just aren't enough for most women living in our crazy modern world.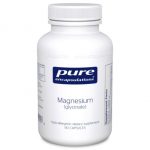 Magnesium (Glycinate)
Pure Encapsulations
Magnesium (glycinate) is a highly bioavailable magnesium chelate, which supports the metabolism and utilization of carbohydrates, amino acids and fats for energy. Magnesium (glycinate) helps activate enzymes for physiological functions including cardiac health.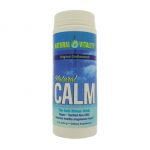 Natural Calm
Natural Vitality
Magnesium is one of the most important basic nutrients that power our bodies, and it is required for more than 700 biochemical reactions. But since our bodies don't produce this mineral, we need to replenish its supply every day. Due to nutrient-deficient soil and fast-paced lifestyles, few of us (estimated at less than one in five) get sufficient magnesium in our diets. This means supplementation is needed, and Natural Calm is the best-selling, award-winning ionic magnesium that mixes easily in water to restore healthy magnesium levels quickly and effectively.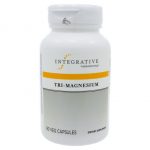 Tri-Magnesium
Integrative Therapeutics
This unique magnesium supplement supplies a variety of forms of magnesium in a specific blend to support cellular metabolism.* As a component of over 300 enzymatic processes in the body, magnesium provides nutritional support for muscles and bones, as well as for several physiological functions including energy production and healthy cardiac function.
Medical Disclaimer
Always speak with your physician or other healthcare professional before taking any medication or nutritional, herbal or homeopathic supplement, or using any treatment for a health problem. If you have or suspect that you have a medical problem, contact your health care provider promptly. Do not disregard professional medical advice or delay in seeking professional advice because of something you have read on this web site. Information provided on this web site and the use of any products or services purchased from our web site by you DOES NOT create a healthcare provider-patient relationship between you and any of the healthcare providers affiliated with our web site.
Information and statements regarding dietary supplements have not been evaluated by the Food and Drug Administration and are not intended to diagnose, treat, cure, or prevent any disease.