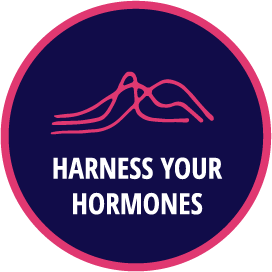 Welcome
Welcome video and message, and medical disclaimer
Start Here
Why you're here and what you'll learn + steps to take right now
Get Started Guide – An overview of the program, including the steps to take and what to expect before, during and after the program.
Week 1  – Prep
Lay the groundwork for the implementation phase of the program.
Shopping List – This comprehensive list will have you covered for the cleanse.
Recipe Book – Includes 50 amazingly delicious recipes that you are going to love! 
Week 1 Meal Plan
Supplement guide – A full list that includes the types and brands of recommended supplements.
Weeks 2-3 – Implement
Reset your hormones and upgrade your period and fertility
14-Day Meal Plan & Lifestyle Guide – Includes menu options and ideas, journaling prompts, and daily feel good recommendations. 
Detox Tips & Feel Goods – Incredible tips and ideas to enhance your program experience and make it as effective as possible
Week 4 – Integrate
Transition to a hormone & cycle supportive lifestyle and learn how to create sustainable change
Ending the hormone reset diet – 
Creating sustainable change –