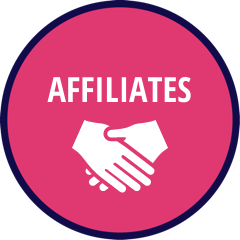 Are You Interested in Becoming an Affiliate?
I hope so! The more people who share these programs, the more women we can reach and teach this crucial information about women's hormonal health.
Through spreading the word about the Harness Your Hormones program (with a personalized affiliate link), affiliates receive a 25% commission on each sale made through your unique affiliate link.
When spreading the word about the Women's Hormone Health Certification program, affiliates receive at 5% commission (that's a minimum of $250 on each sale) made through your unique affiliate link. Awesome right?!
If you've done one of my programs or just followed my work, I'm sure you can understand why I want to get the word out about this to as many women as possible. It's a life-changing experience. If you have a website, newsletter, blog, an online business or you use social media, those are all great avenues to promote the program.
We also have special images, banners, and great sample promotional copy to make it extra easy for you, too.
But first, I want to get to know you, and make sure that we are a great fit for collaboration through my affiliate program.
Just fill out the short application form below and once your information has been reviewed we'll get back to you with your account details.