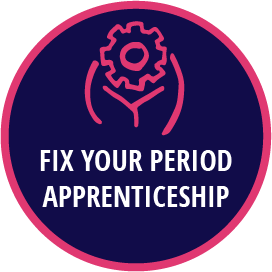 The Fix Your Period Apprenticeship Program
Are you currently a health or life coach (or studying to be one), and want to specialize in women's hormonal health?

Are you wanting to start your career as a women's health coach, but not sure what's the best way to learn?

Or perhaps you're already a body work/massage therapist, nutritionist, doula, midwife, pelvic physical therapist or another kind of practitioner, and want to learn more about hormonal health so you can further help your clients?
If any of these apply to you, then join the waiting list to get information on the next Fix Your Period Apprenticeship Program.
This program is an immersive group experience that has been designed to transform you into a more knowledgeable and confident health coach or practitioner in just SIX months.  And it covers everything from women's hormonal health theory and coaching skills to business setup and marketing.
I'll be co-teaching the program with my dear friend/women's health counterpart & master coach Molly Nichols.  
I will teach you everything I know about hormones, periods, preserving fertility and women's health, while simultaneously holding your hand as you start to create your business from scratch (or revamp your current business). Molly and I will be co-teaching calls on how to build your business, money mindset and changing your money story, confidence, resilience and showing up fully and being seen in the world. 
In addition, I'll be curating an incredible lineup of guest teachers who share their wisdom with you throughout the program. Some past guest teachers include Dr. Carrie Jones, Dr. Jessica Drummond, Lisa Hendrickson Jack, Alexandra Pope and more! And goodies like signed copies of my book, a period journal to sync your business with your cycle and other cool products.
What previous apprentices are saying about Nicole's Apprenticeship Program
As someone who has had an active life coaching business specializing in women for a number of years and has been looking to understand women's health and fertility from a holistic, scientific, and hands-on perspective, Nicole's apprenticeship program has been nothing short of enlightening.
"One of the best things I have done in continuing my health and wellness education is to enroll in Nicole Jardim's Fix Your Period Apprenticeship. Even with a Masters in Holistic Health and Nutrition certification, there was so little that I learned about hormonal balance, and this program filled in all the gaps. After facing a major health crisis with a fibroid and surgery-gone-wrong, Nicole's program helped to get me back on track, build my body back up, and clarify for me that I want to focus on helping women with their hormones. I would absolutely recommend this program to any woman who wants to bring the very important topic of hormones into their health coaching practice. I'm glad I have access to this information for the long haul, because there's so many nuggets of wisdom in there!"
"This experience has been life changing and absolutely transformative. Nicole is not only an amazing coach, but I feel like I have gained a friend for life! Thank you from the bottom of my heart!!!!"
"I feel more confident in the information I am sharing with my patients, in the business I have created around my women's health knowledge, and have gained an amazing and incredibly supportive community of colleagues around me. 
Nicole's support and the community she has created in her apprenticeship is worth every penny of the cost of the program (and then you add in all the knowledge she shares!). I highly recommend this program!"